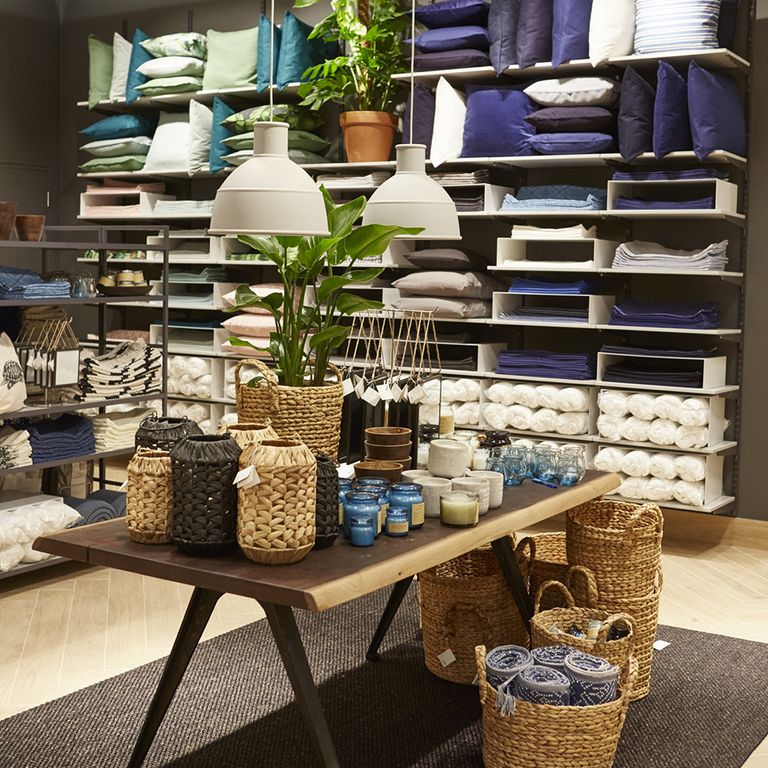 H&M Home store photo from Ideal Home
Unless you've been asleep for the last 20 years or so, you've definitely heard of H&M. Their low-priced clothing and accessories have been a staple in many people's wardrobes for the last few decades – as the second largest clothing retailer in the world, it has stores in 62 countries. You've probably been to one before, and mostly likely own a piece or two of their clothing. But did you know that they also sell home decor items?
I first heard about H&M Home a few years back but hadn't seen any of their items until I moved to the UK. There are a few stores here that sell their home decor line, but otherwise, you can purchase it online. As with their clothing, the home decor items are current, on-trend, and cost-effective. Pretty much the perfect thing for someone like me, ha! Our flat still feels like it needs more finishing touches and accessories, yet I don't have money to burn on frivolous things.
Most of the items that they sell are kitchen/table-based, as well as some pillows, picture frames, and other items. I wish they had furniture or lighting, but I still love the rest of the stuff they have. Wouldn't it be awesome if they sold sofas and tables? I can only imagine how sleek, minimal, and functional they would be.
So, have you seen their stuff in stores? Do you like it as much as I do? Here are some of my favourite H&M Home items in stores now.
Textiles
Baskets
Storage Containers
Decorative Accessories
1 (short)(tall) // 2 // 3 // 6 // 4 // 5
Kitchen Accessories
1 // 2 // 3 // 4 (small)(large) // 5
*This post contains affiliate links*